Completed research projects
Megacity Research Ho Chi Minh City
Funding: Bundesministerium für Bildung und Forschung (BMBF)
Duration: 01.07.2008 – 30.06.2013
Motivation
Because of its topographic location, Vietnam is extremely endangered by climate change, like international comparison studies show. Especially the metropolises and economic centres of the country – Hanoi and Ho Chi Minh City (HCMC) – are affected. Within its fund "Sustainable Development of the Megacities of Tomorrow" the Federal Ministry of Education and Research (BMBF) granted the project "Megacity Research TP. Ho Chi Minh" with a runtime of five years in July 2008 which has been coordinated by the Brandenburg University of Technology Cottbus. A team led by Prof. Dr. N. X. Thinh participates in the project by working on two work packages (Urban Flooding and Urban Energy).
At the moment the metropolitan area of HCMC suffers from flooding with novel forms of inundation. The team headed by Prof. Dr. N. X. Thinh will identify areas of conflict during different inundation situations for the study area of HCMC and derive risk maps.
With about eight million inhabitants and an annual economic growth of more than 10%, as well as booming construction activities, HCMC alone claims a quarter of the entire energy consumption in Vietnam. Therefore the topic energy is of major importance to a highly dynamic megacity like HCMC.
Objective
The aim of the subtask "Urban Flooding" is to build a geo database for flood management and to create flood hazard maps for HCMC. In the subtask "Urban Energy", together with the Vietnamese partners, the spatial distribution of the energy consumption in the residential sector of HCMC is to be determined and analysed as well as the energy production and the structure of the energy sources.
Research Questions
How can flood hazards in HCMC be exactly spatially localized?
Which urban structure types can be identified for HCMC regarding a sufficiently exact modelling of the energy consumption in the residential sector?
With which accuracy and confidence can energy relevant data be collected in HCMC?
Which energy relevant development statements and recommendations for actions can be derived for the improvement of the energy and climate efficiency of residential areas of HCMC considering the local context?
Methodology
The applied methods encompass mainly geodata processing, the analysis of radar data, the mapping of urban structure types, the classification of buildings, energy modelling and scenario techniques.
Location & approach
The facilities of TU Dortmund University are spread over two campuses, the larger Campus North and the smaller Campus South. Additionally, some areas of the university are located in the adjacent "Technologiepark".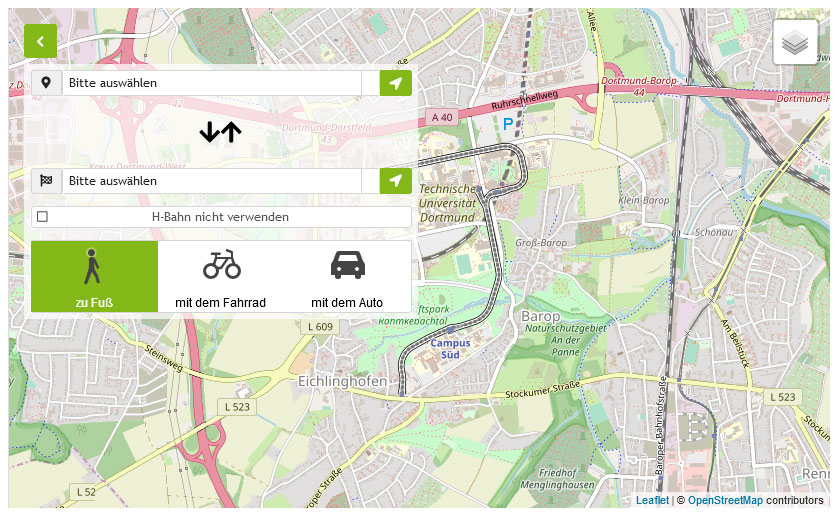 Zum Lageplan