Information about licensing and named-user accounts
ArcGIS Pro licensing
You will receive an account from the administration team, which is necessary for the login in ArcGIS Pro (Named User license). To create an account, we need the following information (in case of multiple accounts for A-, F-, and M-projects please bundled as.CSV-Table):
First name
Surname
TU Dortmund- E-Mail (without abbreviations)
Please send the above information to Mathias Schaefer with the purpose of use for the software.
Important note: Please do not send any account request for the course GIS and Spatial Planning; here, you will automatically receive a named-user account after logging into the corresponding Moodle environment.
After the account creation, you will receive an email from Esri© with all user data, including password. With this account you can log in to ArcGIS Pro on your desktop and use ArcGIS Online. Please log in promptly, as the link will lose its validity after a few days. In addition, the Named User can be used to unlock various other apps that add value to teaching and research (ArcGIS Insight, Collector for ArcGIS, Survey123 for ArcGIS, ArcGIS Dashboard, Esri CityEngine, etc.). In addition, the Named User is the prerequisite for unlocking various learning materials in the Esri Academy.
Your account remains valid throughout your study. You can also use it for exercises, student projects, and theses. You do not need to ask for an ArcGIS Pro account again.
Installation
ArcGIS Pro and ArcGIS Desktop are installed in the PC Pools (GB I + GB III) and ready to use (also via Citrix). In order to use ArcGIS Pro, you have to be logged in with your Named User account.
ArcGIS Online Administration Contact
Location & approach
The facilities of TU Dortmund University are spread over two campuses, the larger Campus North and the smaller Campus South. Additionally, some areas of the university are located in the adjacent "Technologiepark".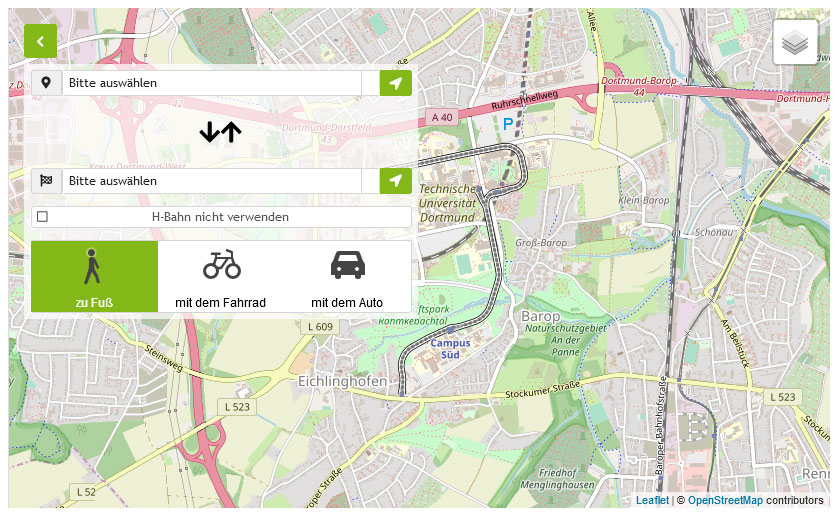 Zum Lageplan