...by car
The TU Dort­mund campus is located near the Dort­mund West interchange, where the A45 Sauerland line crosses the B1/A40 Ruhr expressway. The Dort­mund-Eichlinghofen exit on the A45 leads to the South Cam­pus, the Dort­mund-Dorstfeld exit on the A40 leads to the North Cam­pus. Coming from the A45, you can turn onto Stockumer Straße via Universitätsstraße. This in turn is connected to Baroper Straße, along which Cam­pus South extends. If you take the exit of the A-40, the route via Emil-Figge Straße, Marie-Curie Allee to Baroper Straße makes sense. If you turn from Baroper Straße into Au­gust-Schmidt Straße, you have the possibility to reach the parking lot directly behind the GB III.
...by bus and train
The South Cam­pus is connected via Stockumerstraße by bus lines 440 and 449, which run every 10 minutes. Cam­pus South can be reached on foot from the Am Gardenkamp stop, and the Eichlinghofen H-Bahn station is also located near the Eichlinghofen stop. The bus lines connect to the U42 light rail line at the Barop Parkhaus stop, which provides connections to the Dort­mund-Hombruch district and Dort­mund downtown.
...by overhead railway (H-Bahn)
From Dort­mund-Eichlinghofen, the South Cam­pus is connected to the H-Bahn network via the Eichlinghofen H-Bahn station. Line 1 runs here every 10 minutes, and the South Cam­pus is served by the Cam­pus Süd stop.
A connection to Cam­pus North is also provided via the H-Bahn. Line 2 shuttles between Cam­pus North and Cam­pus South every 5 minutes.
Location & approach
The facilities of TU Dortmund University are spread over two campuses, the larger Campus North and the smaller Campus South. Additionally, some areas of the university are located in the adjacent "Technologiepark".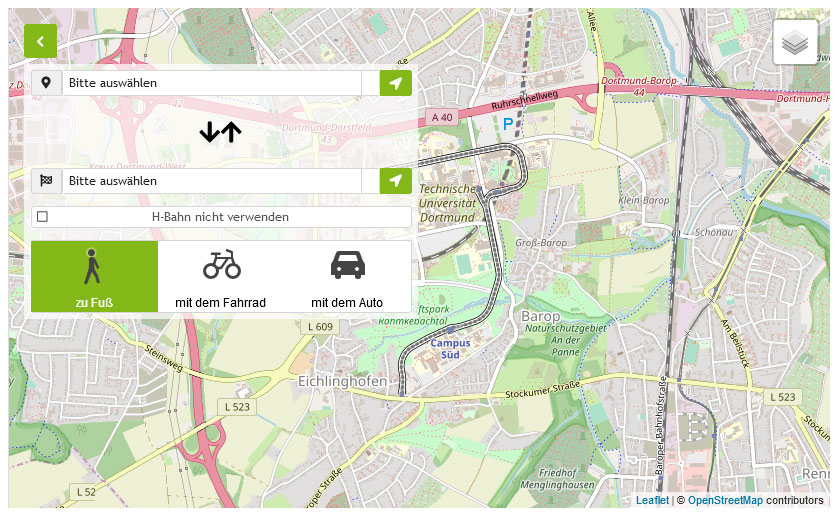 Zum Lageplan