Completed research projects
CLIENT Vietnam project MAREX
Funding: Bundesministerium für Bildung und Forschung (BMBF)
Duration: 01.09.2015 – 31.08.2018
Many cities in Vietnam have experienced a construction boom in recent years, which has led to a rapid increase in resource consumption. Combined with this boom, the result was a rapid increase in the extraction of raw materials in the surrounding areas of the metropolises. In July 2015, the German Federal Ministry of Education and Research (BMBF) approved the MAREX project, which was scheduled to run for three years. The joint project aimed to map the material flows in the building materials industry in the capital city of Ha Noi and its surrounding area. The goal was to determine the effects on the environment as well as the resulting land use conflicts and to identify technical solutions for reducing the environmental impact. The empirical studies focused on Hoa Binh Province, which is a focal point for the extraction of raw materials for the construction industry.
The joint project comprises four subprojects, of which each project pursues different methodological-conceptual approaches, complementing each other in terms of the overall objective. RIM has worked on subproject 1, which aimed to acquire relevant geodata and gain knowledge about mining, resulting environmental problems, and land use conflicts. Environmental impacts were recorded, modeled, assessed and monitored using an indicator system and methods of geoinformatics and remote sensing. At the same time, RIM developed a tool to monitor mining activities including their environmental impacts.
Location & approach
The facilities of TU Dortmund University are spread over two campuses, the larger Campus North and the smaller Campus South. Additionally, some areas of the university are located in the adjacent "Technologiepark".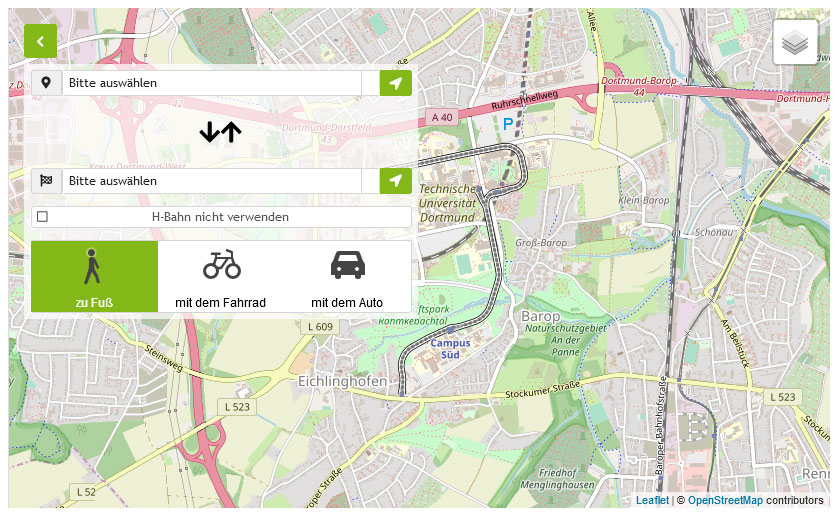 Zum Lageplan