Completed research projects
Grid tool for underground cables
Research assignment of Amprion GmbH
Duration: 01.01.2016 – 31.12.2017
With the amendment of the Federal Requirements Plan Act in December 2015, the power grid routes are now being planned with cable priority. On behalf of the transmission system operator Amprion GmbH, the project consortium is developing a GIS-based planning and evaluation tool to identify optimal high-voltage underground cable routes and partially cabled routes.
The algorithmic approach and the methodological framework of the previous project "Evaluation and Planning of power grids" will be further developed into a hybrid model and integrated into a practicable GIS for use in route planning to identify feasible routes.
Lehrstuhl für Graphische Systeme, Fakultät Informatik, TU Dortmund
Forschungsgruppe Algorithm Engineering, Fakultät Informatik, TU Dortmund
Fachgebiet Raumbezogene Informationsverarbeitung und Modellbildung, Fakultät Raumplanung, TU Dortmund
Spiekermann & Wegener Stadt- und Regionalforschung, Dortmund Amprion GmbH, Dortmund
Ingenieur- und Planungsbüro LANGE GbR, Moers
Location & approach
The facilities of TU Dortmund University are spread over two campuses, the larger Campus North and the smaller Campus South. Additionally, some areas of the university are located in the adjacent "Technologiepark".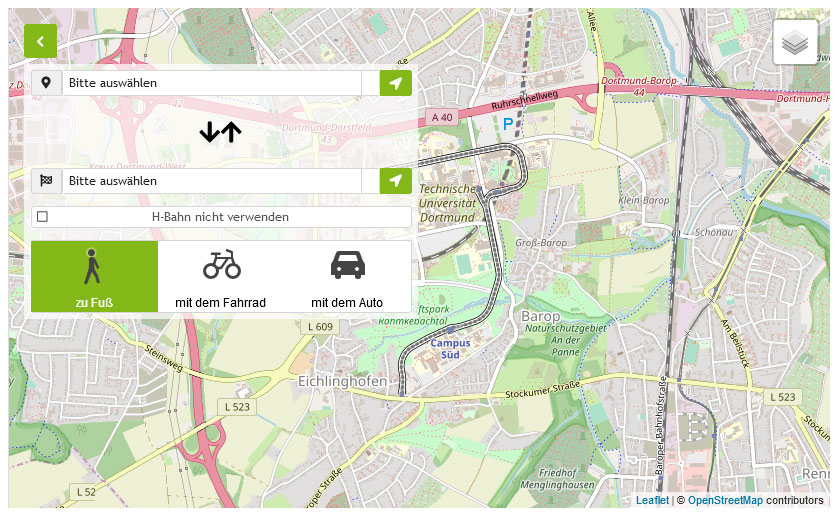 Zum Lageplan