Ongoing projects
SMART URBAN AREAS (SUA)
Sustainable System Solutions for Urban Development
Duration: 01.09.2022 - 31.08.2025
Rapidly growing urbanization and global economic developments are massively increasing pressure on the global water balance and technical infrastructures. At the same time, climate change demands a fundamental shift towards CO2-neutral energy management. In order to address the above challenges, new concepts for cities and neighborhoods in the age of digitalization are to be developed.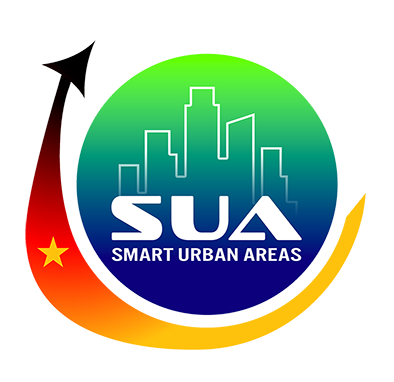 The overarching goal of Smart Urban Areas (SUA) is to contribute to sustainable building management in Vietnam. The project will be carried out with Vingroup as practice partner in the Vietnamese capital Hanoi, by monitoring a smart city that is currently under development. With the use of high-efficiency pumps, greening interventions, and the efficient use of rainwater, the long-term aim is to reduce emissions and increase energy efficiency for a selected building in the smart city. To evaluate the best performing measures, initial microclimate simulations will be carried out and discussed with relevant stakeholders.

In order to provide continuous data and information sharing, a digital twin will be created for the selected building. This procedure will be realized with the use of real-time measurements by modern environmental sensor technology. The digital twin will provide information about fresh water supply as well as the influence of greening interventions and building materials on the microclimate. In the first three years, the project will develop spatially transferable concepts for sustainable and smart neighborhoods.

Website


Project partners:
TU Dortmund University, RIM (project coordinator)
Wilo SE
Vingroup/Vinhomes