KAHR Wissenschaftskonferenz 2022

RIM mit F07-Projekt bei KAHR Wissenschaftskonferenz 2022
Nach den verheerenden Starkregenereignissen im Juli 2021 steht das Bundesland Rheinland-Pfalz vor großen Herausforderungen in der Hochwasser- und Überflutungsvorsorge. Seit Anfang 2021 ermitteln 16 Studierende im Rahmen des F07-Projekts der Fakultät Raumplanung der Technischen Universität Dortmund unter der Leitung von Prof. Dr. Nguyen Xuan Thinh und Mathias Schaefer potenzielle Retentions- und Versiegelungsverbotsflächen im Landkreis Ahrweiler mithilfe einer multikriteriellen Bewertungsmethodik.
Das vom BMBF geförderte Forschungsprojekt KAHR (KlimaAnpassung, Hochwasser, Resilienz) hat die wissenschaftliche Begleitung der Wiederaufbauprozesse nach der Flutkatastrophe in Rheinland-Pfalz und Nordrhein-Westfalen zum Ziel. Für einen fachlichen Austausch über mögliche Anpassungsstrategien und klimaresiliente Entwicklungsperspektiven veranstaltet das KAHR-Projekt vom 29. bis 30. Juni 2022 eine wissenschaftliche Konferenz im online-Format. Das F07-Projekt wird an der Wissenschaftskonferenz teilnehmen und seine Forschungsergebnisse einem interdisziplinären Fachpublikum vorstellen.
Im Vortrag werden sowohl die Ergebniskartierungen als auch die erarbeiteten Indikatorensysteme für die Eignungsbewertung zu Retentionszwecken und Versiegelungsverboten zur kritischen Diskussion vorgestellt. Weiterhin werden erste Lösungsansätze für ein regionales Maßnahmenkonzept skizziert. Durch die herangezogene Methodik konnten in einem kurzen Zeitrahmen belastbare Ergebnisse erzielt werden. Die Projektergebnisse und Methoden sind nicht nur relevant für politische Entscheidungsträger, sondern auch übertragbar auf andere Regionen mit ähnlichem Geodatenbestand.
Location & approach
The facilities of TU Dortmund University are spread over two campuses, the larger Campus North and the smaller Campus South. Additionally, some areas of the university are located in the adjacent "Technologiepark".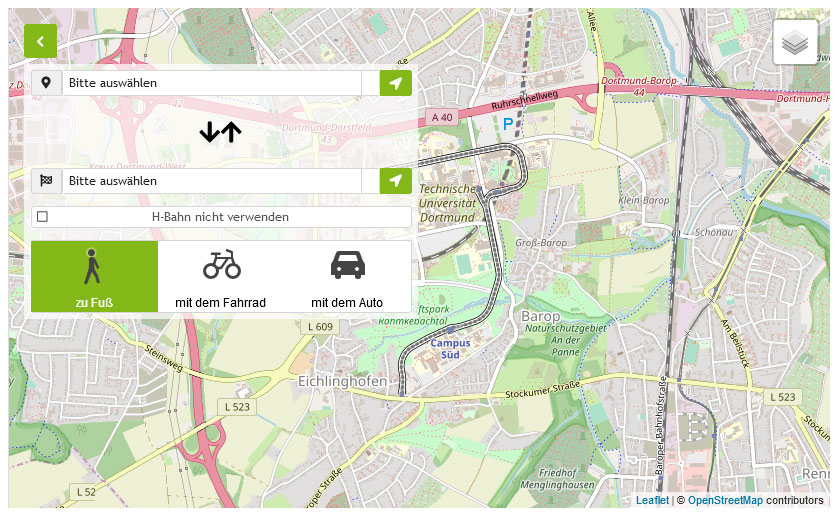 Zum Lageplan